Swiss financial accounting software for Mac OS & Windows
MacCompta, the first Mac accounting program in Switzerland, was designed in 1984 by Frank Métrailler and is now available for Mac OS and Windows.
Created specifically for small organizations, it is especially well-suited for self-employed professionals, freelancers, associations, small businesses and individuals.
Approaching accounting just like in schools, once adopted, it's hard to do without this software that is simple, intuitive, and efficient.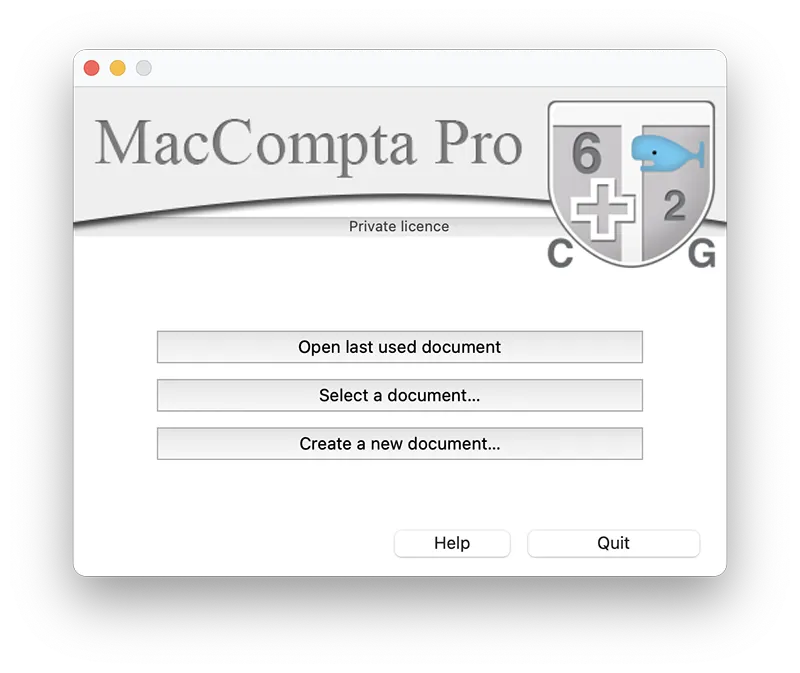 Download this accounting software for free
You can download MacCompta from this website and install it on your Mac or PC, then the software will run in demo mode. Thus, it will enable you to test and discover its many features.
You'll find useful resources for beginners in the download page : user manual and chart of accounts samples, great for setting up your first accounts!
MacCompta: easy accounting, like a fish in water
MacCompta, that's nearly 40 years of experience with the same motto: simplicity.
That's why our clients, whether newcomers or experienced in accounting, easily find their way with just 3 main functions that allow them to add, correct, or delete entries – the essentials for everyday use.
To go further, MacCompta offers numerous additional features that help save time with recurring entries and provide a clearer view in the journal, thanks to title lines and linked entries.
Security
MacCompta is a safe software: you have control over everything that is done in your accounting, with no chance of the program doing something on your behalf.
To safeguard you from potential errors (on your part), MacCompta allows you to correct your entries and includes a backup / consolidation function to restore your document to a previous date if needed.
This backup process also secures your document and helps prevent potential file damage, especially in the event of a computer crash. We can only recommend that you use this very practical feature when needed.
For Mac users, we also recommend using Time Machine, a powerful backup tool integrated into the system. It would be a shame to miss out on its benefits.